Bitcoin May Hit $250,000, This Analyst Predicts An Incredible Price Surge
Because of its volatility, the Bitcoin market is a new market every day. The outcome is always surprising, no matter how well one predicts the future. This time, though, the situation appears to be a little different, since Bitcoin may have just verified top analysts' notion. BTC's price increased on the 4-hour chart, and it also performed well on other time frames.
The Wolf of All Streets Speaks
These were the thoughts of Scott Melker, called "The Wolf of All Streets". He picked up the monthly chart in his most recent analysis video and brought up some fascinating observations. BTC first broke through the EQ line, or mid-line, on the monthly chart. From June 2019 to November 2020, the king coin had held its candles under the line for nearly 17 months. In December 2020, the currency broke over the line, and it is currently re-testing the line for support. Melker made a prediction about where the coin would go from here. Melker said:
"Even if it went next month to the top of the channel (the upper trend line), that'd be $158,000, a month later 168, 176 you see it takes a few months…That gets us to those 230, 250, 280 thousand targets"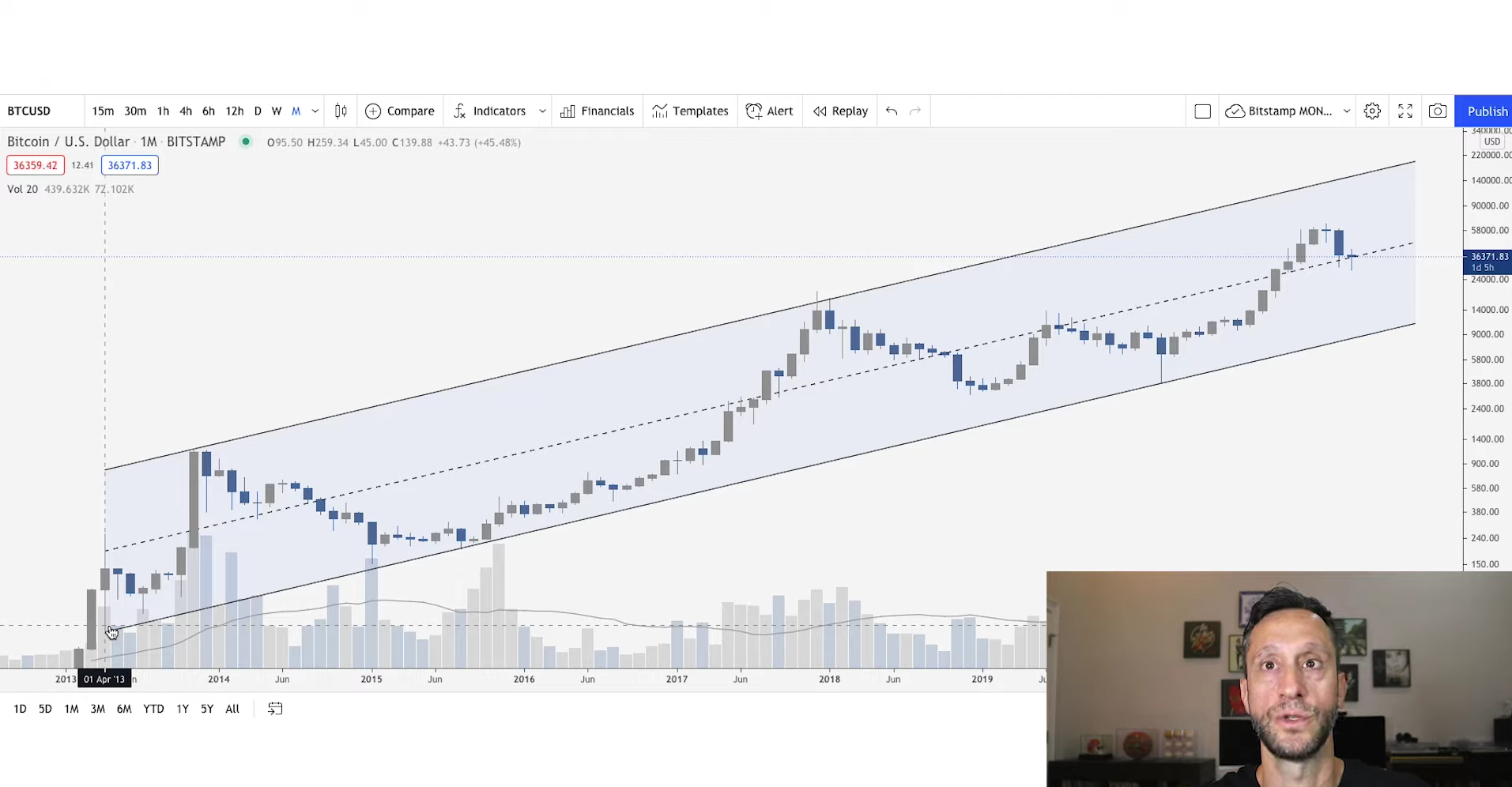 On the daily chart, BTC was breaking the mid-line of the descending channel. The coin has been actively pushing up and it managed to flip it into support. Moving forward resistance will be the 50 MA or the top of the channel as well.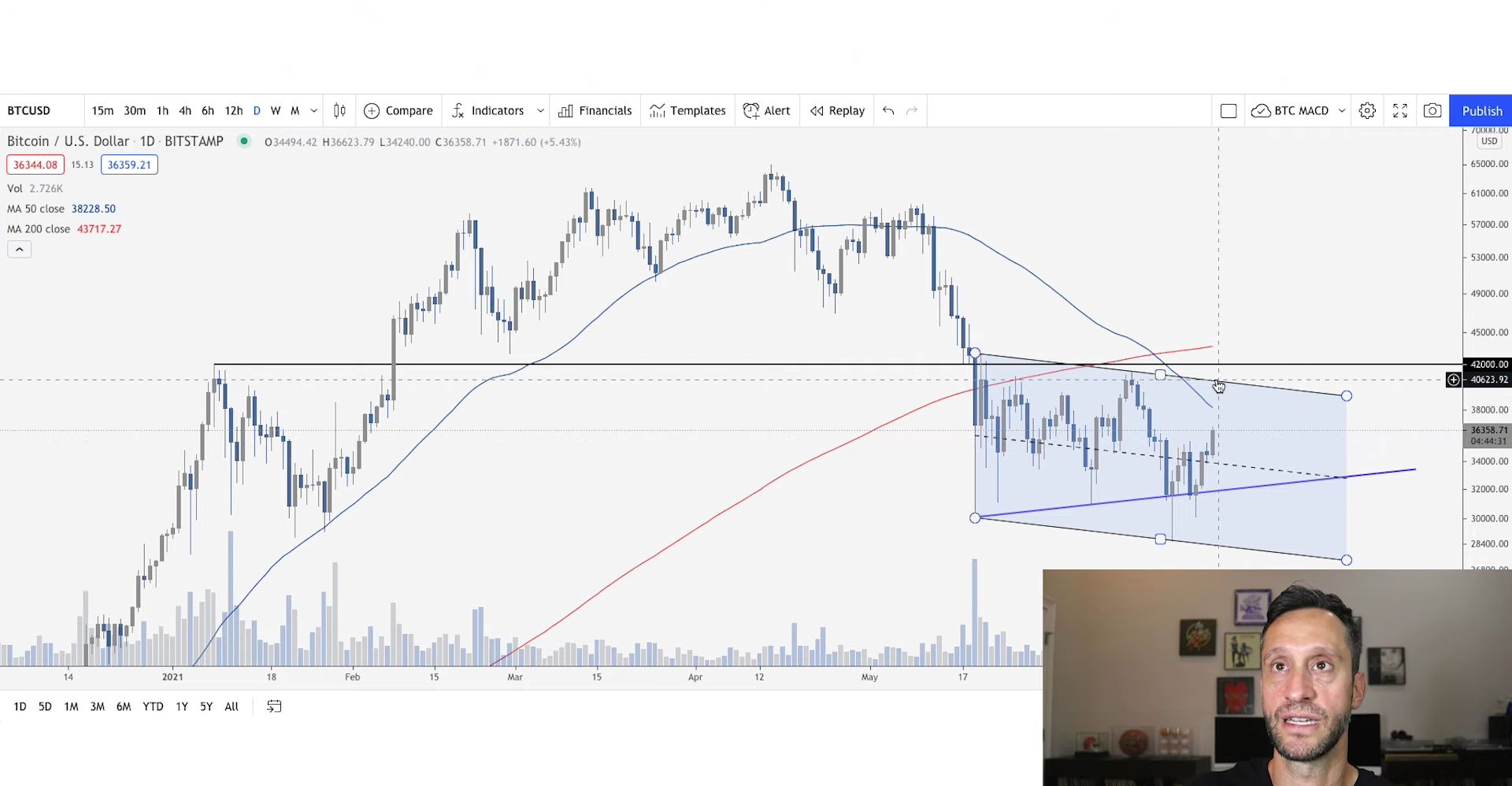 The 4-hour chart, last but not least, showed a likely Wyckoff accumulation rise. The spring appears to be in place, and $36k should hold as support. As this appears to be a sweep of the lows at the present, such a movement may even drive Bitcoin up to $42,000.
Related article | Plan B: The Next 6 Months Will Make Or Break Famed Bitcoin Model
Rekt Capital Supports Melker's Prediction
Popular analyst Rekt Capital too supported this prediction. Recently he tweeted about Bitcoin's movement keeping 50 WEMA in mind and how it could create a potential bull market as well.
9.

Now let's briefly turn our attention to the 50 Weekly Exponential Moving Average (50 WEMA, blue)

This EMA has figured as a vital source of support in #BTC Bull Markets as well

See my previous thread about why the 50 WEMA is worth keeping in mind:https://t.co/bPriAunVxR pic.twitter.com/Rgb3fRO5zV

— Rekt Capital (@rektcapital) June 12, 2021
With all of these potential protests, Congressman Bill Foster's latest statement is concerning. He recently claimed that ransomware assaults, which are becoming more common, pose a danger to Bitcoin's legal position. Foster added in a virtual event,
"I'm not there yet, but there's significant sentiment in congress that if you're participating in an anonymous crypto transaction that you are a de facto participant in a criminal conspiracy,"
Related article | Bull Signal From Bitcoin Bottom Is Best Hope Yet For Continuation
CoinsXM.com shares this Contents always with

License.